Sign up today for the Adventures with Grammy newsletter. Follow my writing and publishing journey, travel with my family as we set out on adventures, and discover activities you can do at home with your grandchildren that are sure to get you lots of hugs and kisses! Read exclusive content not posted elsewhere on social media. Receive a PDF of my book, How to Make Butter.
---
The Adventures with Grammy podcast is for grandparents who are on-the-go with their grandchildren. It is for grandparents who want loving relationships with their grandchildren and for parents who want their children to enjoy loving relationships across the generations. We discuss children's literature, fun activities to do with children, adventures for multi- and skip-generational travel, and issues important to parents and grandparents.
---
Adventures with Grammy has partnered with creatives around the world to introduce you to amazing children's literature, activities and adventures. I am thrilled to introduce you to people who are as passionate about their children and grandchildren as I am about mine. I met most of these lovely people through hosting my podcast; others I know from other associations. The bottom line is each of these connections offers something of value to families, so head to the Adventures with Grammy Network and explore!
---
Explore
ADVENTURES WITH GRAMMY: LET'S EXPLORE

 is a proposed series of nonfiction books that will take grandparents and their grandchildren, toddlers to teens, on magnificent romps across the United States. Each book will help grandparents establish and reinforce special places in their grandchildren's hearts and answer two important questions: Where  can I take my grandchildren that is budget-friendly and fun for each of us? How do I ensure the good times we share will become long-lasting memories my grandchildren will cherish forever? The works in progress are Let's Explore Virginia, Let's Explore the Mid-Atlantic and Let's Explore the Southeast! 

 

 
---
Learn
ADVENTURES WITH GRAMMY "HOW TO" is a series of books for grandparents who want to nurture the bonds with their grandchildren. 
Each book focuses on a budget-friendly, fun activity guaranteed to create long-lasting memories grandchildren and their grandparents will cherish forever.
The first book in the series, Adventures with Grammy: How to Make Butter, draws on a long-standing family tradition. The author's mother made butter as a young girl in the kitchens of her mother and grandmother. Now the author's grandchildren are making butter as their great grandmother did almost a century ago! You can give your grandchildren a sweet taste of history by following the six easy steps in this little book … complete with pictures!
The second book in the series,

Adventures with Grammy: 

How to Bake Sourdough Bread, provides a "stealth" learning opportunity — a little math, a little science, and a little love rolled into a tasty treat. 

While having fun in the kitchen with grandparents, grandchildren

 will learn how to make starter and discover recipes for various sourdough breads. 

This hands-on learning also teaches patience and sharing.
---
Personalize
 Scroll down to see our line of plush animals personalized with your grandparent name! If your name is not one of our designs, we can design it for you! For sale at https://www.etsy.com/shop/adventureswithgrammy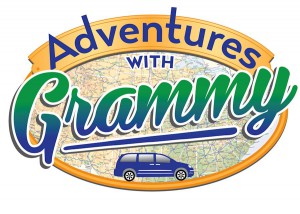 What is in the Let's Explore Books?
Grandparent names currently available
(We can design any name!)
Plush animals:
10-inch – brown, gray, tan;
14-inch – beige, gray, tan;
22-inch – fox, moose, raccoon, sloth;
31-inch – tan, white 
in stock regularly and personalized with bandannas, bow ties, t-shirts and hair bows.  (The animals pictured before personalization.)