Click each episode number to read the blog post and listen to the episode.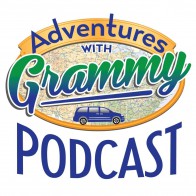 Most of these pages are under construction; please check back!
Episode 61  Harriet Tubman's Bicentennial Celebration
Episode 60  Hart County: Where Grandparents' Dreams Come True
Episode 59 Insider Tips for Making Magical Memories at Walt Disney World
Episode 58 Positive Messages are Critical for Raising Health Children
Episode 57  Traveling with Children
Episode 56 A Kidpreneur Shares His Love of Candles
Episode 55 A Chat with Author/Illustrator Dori Durbin
Episode 54 Storytelling
Episode 53 The Dad Connection: A Bridge to Your Children
Episode 52 Every Child Needs a Favorite Grampy
Episode 51 Christmas Memories
Episode 50 My Country Cousins, a Chapter Book Series for Ages 6-10
Episode 49 Queen Vernita's Magical Christmas Train Ride
Episode 48 Spin the Dreidel; it's Hanukkah!
Episode 47 Amazing Ways to Research Your Family Tree and Write Your Personal History
Episode 46 A Podcast Swap with Emily Morgan, Host of the Grand Life
Episode 45 An Educator's Commitment to Students and Teachers
Episode 44, My Child is Struggling in School. How Can I Help?
Episode 43 A Heart Surgeon Shows People How to Stay Off His Operating Table
Episode 42 The Five Keys to Greatness
Episode 41 Zen Pig Teaches Mindfulness
Episode 40 Celebrating Grandparents with Author Ann Richardson
Episode 39 Engines! 25 Science Projects for Kids
Episode 38 This Bronx Girl Knew She Could
Episode 37 Grandson Strives to Honor Grandpa: Best Historical Album Grammy
Episode 36 "A Song for Grandma and Grandpa"
Episode 35 How to Feed Your Ninjas
Episode 34 Supporting Our Children to Help Them Be Better Parents
Episode 33 Curly Crew Books Highlight Kids of Color
Episode 32 Geocaching: A Modern Dan Treasure Hunt
Episode 31 Are You GaGa Over Your Grandchildren? Join the GaGa Sisterhood
Episode 30 Intergenerational Interactions: Seniors4Seniors
Episode 29 Nana Jill and Cousins Camp
Episode 28 A Day at the Zoo! A Look at Autism and Friendships
Episode 27 Rozanne Travels to Africa to Kiss a Giraffe
Episode 26 Strokes: Minimize Your Risks
Episode 25 A Modern-Day Grandparent Celebrates Gorgeous Grandma Day
Episode 24 Silly YaYa
Episode 23 Dyslexia: A Special Kind of Smart
Episode 22 Positive Kids Today: The Hand Hug
Episode 21 Augustine K. Mulenga, a Children's Author from South Africa
Episode 20 The Addicted Child: A Parent's Guide
Episode 19 Yoga for Grandparents and Grandchildren
Episode 18 Super Mommy, A Mother's Day Tribute
Episode 17 A Fever is Your Child's Friend
Episode 16 The Good Grandma
Episode 15 Grandma Joi Shares Words of Wisdom
Episode 14 Grandparents Raising Grandchildren
Episode 13 How to Handle a Child's Meltdown
Episode 12 Visiting Museums with Children in Tow
Episode 11 Mindfulness and Social-Emotional Learning
Episode 10 Hiking and Camping with Grandkids
Episode 09 Grandparents Day in Schools
Episode 08 Cousins Camp; Passports and Pacifiers
Episode 07 Career Exploration and How to Graduate from College Debt-Free
Episode 06 Autism and Family Travel
Episode 05 Valentine's Day Activities
Episode 04 Queen Vernita; Retirement Stories
Episode 03 Over 50 and Fabulous; Brady, the Therapy Dog
Episode 02 Crabbing with Granddad; Chicken Fat Exercise Kids
Episode 01 The Official Launch
Bonus 01 Merry Christmas
Trailer 02 An Update to the Upcoming Adventures with Grammy Podcast
Trailer 01 An Introduction to the Adventures with Grammy Podcast