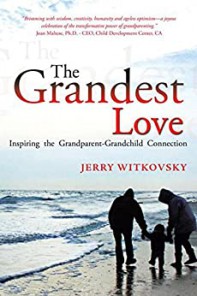 Jerry Witkovsky is the grandpa every child wants to love. He believes a strong grandparent-grandchild connection starts with a strong grandparent-parent bond. He advocates family meetings, a family vision statement, and interdependence — each generation becoming the teacher, as necessary. He gives readers the tools — fun, easy-to-use worksheets and exercises — they need to form their family organizations.
---
The author backs up his convictions with heartwarming personal stories, memories of his grandparents, and letters from his grandchildren that describe the lessons they learned from him and his late wife.
---
Perhaps one of the greatest features of the book is a discussion of the power of forgiveness and how to mend hurts with children. Without a strong grandparent-parent relationship, visits with grandchildren will be infrequent or non-existent, and no grandparent wants that. Regardless of a grandparent's relationship with his or her children and grandchildren, this book will help you make the bond between generations stronger.
---
Be sure to sign up for my monthly newsletter. Articles will give you exclusive content I will not share on social media and a heads-up about events, products and books you will find interesting. To sign up, click here! To contact me, send an e-mail to carolyn at adventureswithgrammy dot com!
---